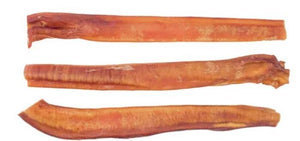 Willy's Wags Natural Pet Treats
Is That a Pizzle in Your Pocket? - Six Inch Bully Sticks - Large or Jumbo
Regular price
$6
$0
Unit price
per
Is that a pizzle in your pocket or are you just happy to see me?
IYKYK how much dogs love bully sticks! Unlike some brands, these bully sticks are not super stinky and all the dogs we've tested them on love them!
What we love about it:
Natural, long lasting chew
Chewing helps keep your dog's teeth clean
US-based company focused on being earth friendly with small batch, handmade natural products
Ethically sourced and made from 100% South American bull pizzle. These premium treats are a good source of amino acids, known to support brain health as well as body and coat health. These long lasting chews also promote healthy teeth and gums. Easy to digest, high in protein and low in fat. No additives, fillers, hormones, chemicals or preservatives.
Willy's Wag's is based in New Jersey and offers only the best products with the best ingredients. Willy's Wags knows how important health, nutrition, and safety is to you and your dog.
---